Balkan Beats meet Jazz
Line-up:
Mesut Ali – Drums
Fuasi Abdul Khaliq – Sax
Jan von Klewitz – Sax
Mustafa Sarisin – Bass
Ulli Bartel – Violin
Fernando Fiszbein – Bandeneon
Viviann Incoronta – Belly Dance, Bellyjazz
Stand-by:
Gökhan Arslan – Sax, Clarinet
Paul Schwingenschlögl – Trumpet

The Turkish composer, drummer and bandleader founded Oriental Connection in Berlin in 1989 and has been commuting between Berlin, Paris and Athens since then and has quickly become a household name in the international jazz scene. Exciting, varied jazz improvisations are his trademark.
He follows the artistic path of international understanding with musicians from different countries, continents, cultural circles and overcomes boundaries in musical dialogue.
Mesut Ali has appeared in various casts at festivals and clubs across Europe with Okay Temiz, Gerd Dudek, Paul Brody, Felix Wahnschaffe, Ivo Papadov, Souleymane Touré and many more.
Orient meets Occident – The creative bridging between European, Latin American and Oriental musical traditions, which always sounds fascinating and reaches unimagined dimensions.
The virtuoso rhythms meet the melodies of the Balkans and combine with jazzy improvisations and traditional melodies from the Carpathian basin and the Balkans.
The music of the top-class international group is based on odd rhythms such as 5/8, 7/8 or 9/8 and exotic sound structures, whose immense variety surprises and stimulates the audience to dance.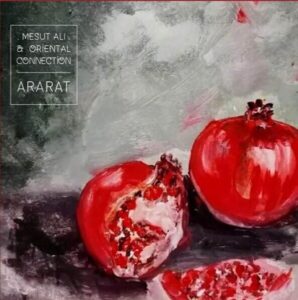 A kind of frayed ruby ​​stone that got on a bazaar.
The dramaturgy of the wahwah effects, edgy funk riffs, blues-soaked saxophone solos of North American style, as well as calm, passionate ballads leave the impression that there is nothing that would fit better together.
4. CD " ARARAT" 4-2023

The Musicians
Fuasi Abdul Khaliq
The jazz saxophonist, composer, producer and curator comes from Los Angeles, where he learned the flute, clarinet and saxophone at the age of 8 and received his B.A. in sociology and music at Whitman College in Walla Walla, Washington. Afterwards, he studied composition, arranging and performance in the renowned U.G.M.A.A. Foundation (Union of God's Musicians and Artist Ascension) in Los Angeles, together with the jazz pianist Horace Tapscott and the Pan African Peoples Arkestra (P.A.P.A.). This resulted in US appearances with greats such as Walter Bishop Jr., Arto Tuncboyaciyan, Arthur Blythe, Winard Harper, Ed Blackwell, Joe Bowie, Hal Singer, Sugar Blue, Nedra Wheeler, Abdu Salim, Dick de Graaf, Abraham Burton and others. Living in Berlin since 1992 and touring all over the world. He is known for a sound that conveys jazz with influences from blues, funk, swing and African musical styles from Yoruba, Bantu, Ewe-Fon and Madinka.
Jan von Klewitz
studied at the Cologne University of Music. Collaboration with Albert Mangelsdorff, in the Berlin Contemporary Jazz Orchestra with Alexander von Schlippenbach, Evan Parker, Aki Takase and Ernst-Ludwig Petrowsky. He also played in the double quartet Double Dose with Conny & Matthias Bauer and in the quartet Gossip, with Heinz Sauer and Nesin Howhannesijan. Numerous film music productions followed with Wolfgang Dauner, Stefan Lottermann, John Schröder, Steve Argüelles, Rudi Neuwirth, Michel Godard, Bob Degen and Christopher Dell. He has performed at numerous national and international festivals and toured Africa with Yakou Tribe. In 2007 he played with Christian von Kaphengst's quartet Cafe du Sport in India and Pakistan.
Mustafa Sarisin
In 1974 he was as a guitarist a part of the legendary Turkish-Anatolian rock band Kurtalan Ekspres, one of the first Turkish bands that knew how to mix modern and oriental sound and went on a world tour in 1974. The group was founded in 1971 by the famous Turkish singer Barış Manço. Today he is the orchestra leader of "Rap Die Segel" – The HipHop Youth Orchestra of Sprühlinge & the Urban Art and Culture Working Group Germany.
Ulli Bartel
studied at the Berklee College of Music Boston and now teaches at the JIB (Jazz Intitut Berlin), various music schools in Berlin and produces film music. Collaboration with Allan Praskin, Herb Geller, Gerry Brown, Butch Morris, Bob Mover, Bill Elgart, Bob Degen, Pierre Boussaguet, John Schröder, Sigi Busch, Carlos Bica, Heinrich Köbberling, Dorado Schmitt, Marc Abrams, Frank Möbus, Ed Schuller, Michael Rodach, Walter Gauchel, Kosta Lukacs, Sirone, Dotschy Reinhardt, Tobias Langguth, Michael Rodach, Ekkehard Wölk, Feigeli Prisor and others.
Viviann Incoronta
is a dancer and choreographer for contemporary belly dance. Her movement research focuses on the body images in belly dance with an open, performative and post-colonial focus. Her contemporary approach dances with the dichotomy of artificial and traditional, of self-determination and control. In her artistic work she is looking for ways to create spaces in which the dance is publicly reflected and the belly dance can be released from the state of comparability. With unconventional performances and costumes, she wants to redirect the external as well as the internal view of the belly dancers' body and thus create a new form of aesthetics. This redirection can have a reciprocal effect on the expression of movement. It is therefore not only about changing the perception, but the state.