from Colombia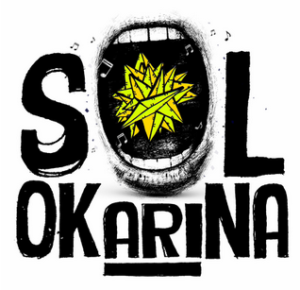 Calypso, Swing, Jazz & Blues
Soca, Cumbia, Rock & ElectroPop
see also: www.solokarina.com

Solo-Performance
& Jazz-Trio with:
Sol Okarina – Kolumbien – Voc, Cuatro Llanero, Stomp Box
Trigo Santana – Brazil, Bass
Carlos Corona – Mexico, Guit
& Roots Trio with:
Sol Okarina – Kolumbien – Voc, Cuatro Llanero, Stomp Box
Oz Camera – Germany, Mandoline
Meduli – Germany, Boxen Bass
Workshops:
– Sing Away Your Sorrows (SAYS)
– In Chantin Restistance (ICR)

Sol Okarina is an integral artist, singer, songwriter, performer, composer and Producer. As a music creative her sound creates an original journey through different soundscapes, influenced by Afro-Latin roots, Caribbean and Colombian music as well as electronic and contemporary sounds.
She has worked in the fields of production and composition of original music for albums, featured films, TV series, web series, multimedia, theater and songs (music and lyrics), for different creative areas; as well as management and production of artistic projects and cultural events.
Sol was founder and first chapter lead for Women in Music Organization – Colombia from 2017 until 2020.
During 2020 SOL OKARINA, partnered up with Global Peace Drive Team and launched Songs4Planet Challenge; an initiative made to give a voice and bring opportunities for coming artists and musicians. Which, like Sol also dream about a better planet and share uplifting vibes through arts and music.
2020 SOL OKARINA was selected by Procolombia and Ministerio de Cultura among the 21 outstanding entrepreneurs in Colombia as a representative for the music industry and an ambassador of Colombian music and culture at WOMEX 2017, 2020 & 2021.
Since July 2022 she lives in Berlin, Germany.
The musicians:
Trigo Santana – bassist and guitarist from Minas Gerais, Brazil, has lived in Berlin since 2016 and is mainly active in the Brazilian and Latin jazz scene. He has recorded, toured and played with big names in Brazilian music such as Toninho Horta, Egberto Gismonti, Rafael Martini, Mauro Rodrigues and many others. Beyond the world of improvised & jazz music, he has maintained a long partnership with contemporary songwriters and artists such as Kristoff Silva, Rafael Macedo and Alexandre Andrés.
Since 1990 bass player, composer, arranger, teacher of Brazilian music and culture. 2002 Brazilian percussion and 7-string Brazilian guitar with samba and choro in the jazz scene. 2004 studied classical double bass at the Federal University of Minas Gerais. During his studies he attended numerous workshops and master classes with internationally renowned musicians such as François Rabbath, John Patitucci, Gary Burton, Larry Grenadier, Ron Carter and Greg Cohen.
Since 2009 he has been teaching electric bass, double bass and 7-string guitar at music schools and privately. 2011/2012 lecturer at the Federal University of Minas Gerais and was involved in social education projects, gave workshops on "Brazilian Rhythms and Double Bass" (2011) at Sesc Cuiabá (BR) and "Contemporary Brazilian Music" (2013) at NYU in New York.
As a professional musician he played for many years in the Brazilian jazz scene with some of the most important groups in Minas Gerais and recorded and performed with Mauro Rodrigues, Toninho Horta, André Mehmari, Hermeto Pascoal and Egberto Gismonti, among many others. Tours with various bands in Europe, Latin America and the USA, jazz & latin projects and Brazilian and electronic music and recordings of many albums in different music styles.
Today he lives in Berlin since 2016 and works mainly as a sideman, bandleader, arranger and lecturer.
Carlos Corona – guitar, was born in Guadalajara, Mexico, in 1990. At the age of 9 he started to play the classical guitar. Inspired by Brazilian music, Carlos discovered the Brazilian Seven String Guitar and started to use it into jazz and Latin-American popular music in his different projects in Guadalajara. Being part of different bands in Guadalajara, he played different music styles as Cuban and Brazilian music, Jazz Manouche, Mexican son Jarocho, boleros and european music, performing in several theaters and festivals. All this background helped him to explore the Brazilian Seven String Guitar through his own compositions and original arrangements of popular Mexican songs, using contemporary harmony.
His first album "Siete Cuerdas Tapatías" was released in Mexico 2015 presenting his pursuit to find new musical sounds and possibilities within the contemporary Mexican guitar. Siete Cuerdas Tapatías received the sponsorship of The Secretaría de Cultura de Jalisco.
His performance at the international Jalisco Jazz Festival 2016 sharing the stage in Teatro PALCCO with John Beasley, Frost Ensemble, Toktli, Federico Sanchez, earn a nomination for 'Best Jazz Concert Mexico 2016' (Lunas del Auditorio Award). He presented Siete Cuerdas tapatías also at Premio Nacional del Agave 2016, Teatro Sala Higinio Ruvalcaba, Radio Live Session Solo Jazz (Sara Valenzuela, Radio UdG Guadalajara), Festival Cultural del Grullo 2017, Global Music Stage Berlin, Konzertsaal Syke (2019).